We encourage you to take advantage of our services in whatever way you prefer: call, text, email, social media, or book an in-store appointment with us.
We are Clothing Advisors and are here to help you define your personal style. We truly care about the investments you make. Ways we can help:
Keep track of and update your wardrobe
Make sure you're appropriately dressed for any occasion
Introduce you to new items and brands
Ensure you have the right fit – with or without alterations
Closet cleaning and full wardrobe assessments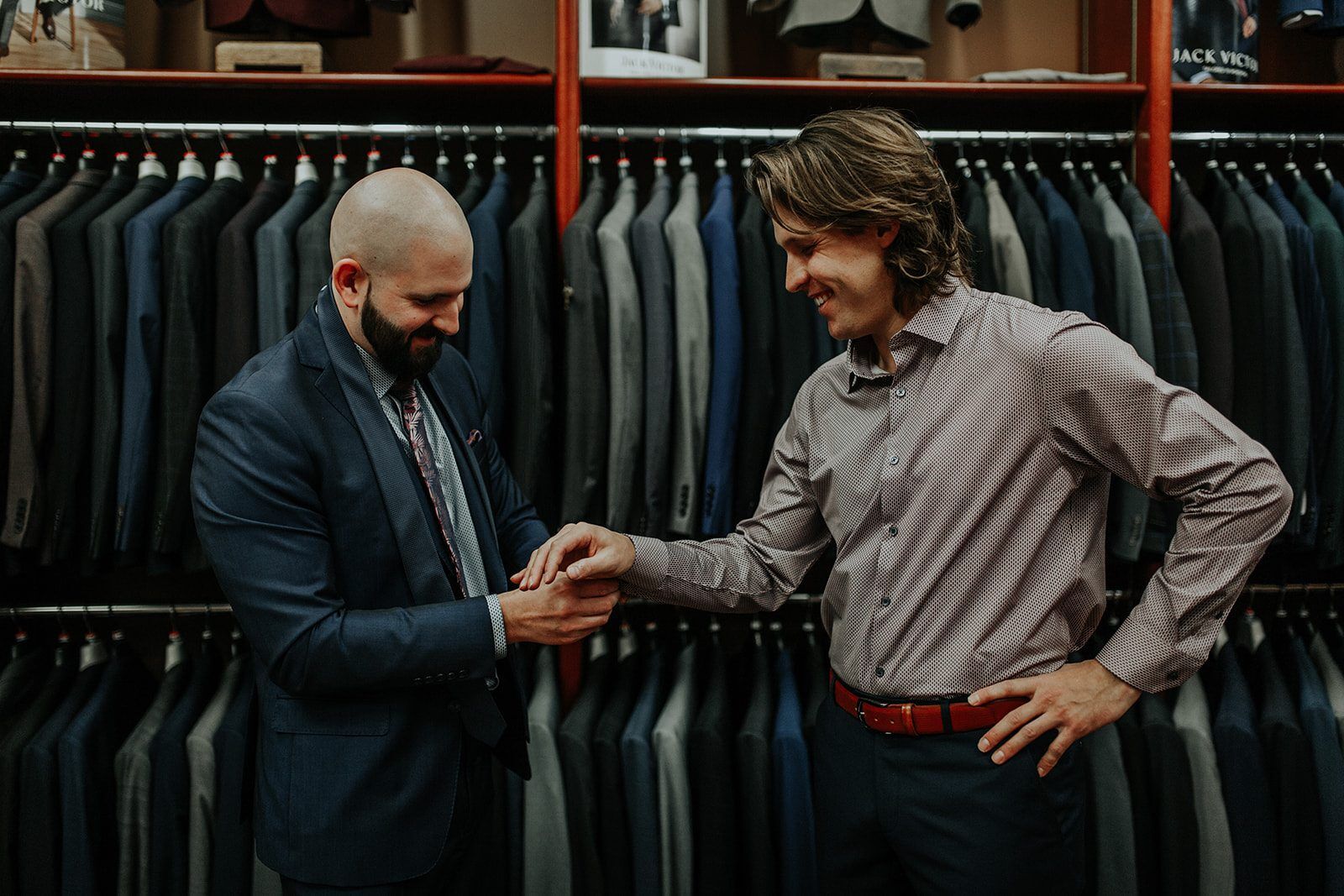 Enjoy a shopping experience that is custom to your needs in a more private and intimate atmosphere. The focus is all on you and we want you or your group to feel like you're right at home. This is the perfect opportunity to take the stress out of shopping and experience it in a way that's tailored specifically to your needs.
We're here to help guide you or your group towards brands of clothing that are best suited for your style and your specific body type. Whether it's a new outfit for special occasions like graduations, weddings, funerals and date nights or if it's everyday wear, office wear, athletic wear, gift shopping or a full wardrobe refresh, we have you covered.
This is a perfect time to plan your graduation or wedding and if you or your group need sizing and measuring of any kind, Thursday nights are all yours.
This may also be for you if:
Are a busy individual that doesn't have time to casually shop
Have questions about what fit/clothing works best for you
Can't make it to our shop during regular shopping hours
Feel like you would benefit from a personalized shopping experience
Would like to avoid shopping around other individuals due to Covid-19
The store will be closed to the public from 6 – 9PM during private shopping appointments
Each appointment booked is for 30 minutes and up to a maximum of 90 minutes, so that we can spend time on sanitation procedures after each appointment.
During your visit, you and/or all members of your group, along with our staff, require masks to be worn. (We have disposable masks available for you if needed). You'll be asked to sanitize your hands upon arrival. By keeping your appointment, you affirm that you have no symptoms that could be attributed to COVID-19. (In other words, if you don't feel well, stay home)If you need to cancel we ask that you do so at least 24 hours beforehand
Despite the guidelines above, the culture of our store will remain the same. Where people come for the service, selection, style, and the comfortable, authentic atmosphere that encourages conversation and connection. Complimentary shipping, delivery within the city, as well as, expert and timely alterations are always seamlessly coordinated.
MAINTENANCE GUARANTEE
We want to ensure that you look and feel your best in every garment you purchase from us.
Complimentary maintenance and minor repairs on any garment purchased from our store. Free of charge.
Alterations required due to weight loss or weight gain. Subject to a minimal cost.
IN-HOUSE ALTERATIONS
Our in-house tailor, Mildred, provides complimentary top-quality alteration services on most items.
Basic hemming on pants is always free of charge.
Charges apply to tapering side seams of pant legs, shortening sleeves, and taking in side seams on dress shirts.
Charges apply to most alterations on sale items.
CUSTOM FITTING
We offer made-to-measure tailoring, from S. Cohen and Jack Victor, for garments made to your precise measurements, fabric choice and stylistic preferences.
Can I order by phone?
Yes. You'll need to provide us with the name on the card, credit card number, expiry date, and CVD number. We accept E-Transfer too!
Payment options?
We accept Gift Cards and North American credit cards: MasterCard, Visa & Debit.
Do you ship outside of Canada?
At this time we only ship within Canada
Shipping costs?
FREE expedited shipping within Western Canada (2-5 business days in major centres) Expedited shipping outside of Western Canada (3-7 business days in major centres)
How long do I have to return an item?
You have 30 days from the purchase or delivery date. If you are unable to return an item for circumstances beyond your control, we will come to a mutual agreement.
See our RETURN POLICY
Covid Protocol for in-store experience
Where are you located?
What brands do you carry?
Ideas for our upcoming wedding?
Do you rent suits or tuxedos?
Yes we can rent you both. We are agents for a rental company out of Saskatoon called, "Tux and Tails" Check out their website or see us in-store for their catalogue and pricelist.
Book Your Private Appointment
"*" indicates required fields
Hours
Mon-Fri: 9:30am - 6pm
Thurs: 9:30am - 6pm (Private until 9)
Saturday: 9:30am - 5pm
Sunday: Closed